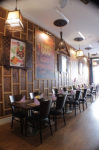 Escape to Thailand! Come visit our award-winning Thai restaurant located in downtown Wiesbaden, and take a journey through authentic and unique Thai cuisine. We opened just a few months ago, in January 2014, and have quickly become a favorite for locals and visitors alike.
We have chosen the name "Thai Banyan" because both the bodi and banyan trees in Thailand symbolize a sizeable structure with a strong base and we believe our friendly and energetic staff mirror this same aspect of Thai culture. Historically these trees were a gathering place, which provided an enjoyable and relaxing site away from the heat and stress of everyday life, where people came to sit back and rest.
So please come into our "Thai Banyan Tree Restaurant", where you, too, can relax, unwind and savor Wiesbaden´s finest Thai cuisine.
Our Thai Cuisine and our Executive Chef, Mr. Khamnung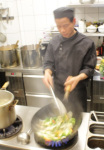 Enjoy authentic, traditional Thai cuisine from our master chef Mr. Khamnung. With more than 20 years' cooking expertise gained in the Bua Restaurants of Bangkok, Khun Khamnung truly has a heartfelt passion and love of Thai food that translates into every Thai dish he creates.
Here at Thai Banyan the kitchen staff uses only the finest, freshest Thai ingredients, herbs and spices and make every dish from scratch. Khun Khamnung´s gifted culinary process will bring you both traditional cuisine as well as his own signature creations – all bursting with contrasting flavors and textures, from aromatic lemon grass and smooth and delicate Siamese ginger to spicy chilies and peppers. We are, also, a very vegetarian friendly restaurant.
We believe in having an open kitchen, where you are able to watch the natural and age-old preparation of your favorite dishes. Mr. Khamnung likes to assert his belief that Thai Banyan Restaurant must bring the same original taste found in Thailand here to Wiesbaden. The food must be garnished and presented in a truly appetizing and elegant way. You will often hear him saying, "If I find it delicious and stylish, I believe my guests will love it, too."
A selection from our customers´ favorites:
Khao Ob Sapparot served in fresh pineapple
Somtam Set Menu, a delicious and savory trip to Isarn, Thailand
One of Mr. Khamnung´s signature creations:
Ped Mee Grob Sauce Kafe – Knusprige Ente auf knusprigen Nudeln mit Kaffee-Ingwer Sauce.
Super lecker!
Our Restaurant Manager, Mr. Niwatr and his Staff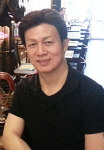 I, Mr. Niwatr, am your friendly and attentive restaurant manager. For so many years I dreamed of having my own Thai restaurant, where my guests could experience outstanding, authentic Thai food in a stunning and exquisite décor – all at very reasonable prices. This is what explains the birth of Thai Banyan Restaurant, Wiesbaden. I hope my typical Thai smile, my ability to speak English, German and Thai and my passion to treat every customer as a special VIP all add up to not being able to miss me in our beautiful restaurant.
Thai Banyan Restaurant has a full bar serving tap beer, a wide selection of exquisite German and imported wines, traditional cocktails as well as fruit juices, smoothies and soft drinks.
Here at Thai Banyan our cook, manager and staff try hard to live up to our logo, "Traditional Thai Restaurant, a bit Different". My part-time barkeepers, Ms. Goi and Bastian, and I enjoy creating new and unique signature drinks, which we think you will simply love: for example, Wellness Drinks: Mango-Mint, Orange-Ginger . . . or Smoothies: Strawberry-Milky . . . or Homemade Ice Teas: Ginger, Peppermint . . . or Alcohol-Free Cocktails: Orange Coco, Mango Paradise.
So, if I am not quietly updating my Thai Banyan Facebook website, please don´t feel startled if you experience me exploding with passion, determined to succeed in making all our guests feel welcome and like royalty in Thailand. You might catch me whispering to my staff, "Passion makes good things happen."